S. 1 / H.R. 1 Update | February 12, 2021
---
As state lawmakers across the country push legislation to make it harder to vote, momentum continues to build for the For the People Act (S. 1/H.R. 1) to fight back against this voter suppression and restore the public's faith in our democracy.
Here are three things to know:
House Rules Committee Chair Jim McGovern, with iVote Founder Ellen Kurz, published an op-ed this week on the need for Congress to take up and pass the For the People Act to repair our democracy: "Every American deserves political representation that ensures their voice is heard and their vote is counted."
The AFL-CIO endorsed the For the People Act, writing, "By expanding access to the ballot box, reducing the influence of big money in politics and strengthening ethics rules for public servants, this legislation includes many of the most important reforms necessary to restore the promise of our democracy."
In the News
People across the country are writing letters to the editor of their local newspapers to encourage members of Congress to support S. 1/H.R. 1, including in Iowa, Oklahoma, Florida, New Mexico, Oregon, Pennsylvania, Maryland, Washington, Minnesota, California, New York, Rhode Island, and Tennessee.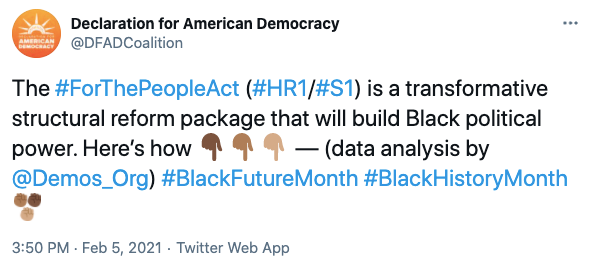 Tulsa World: Voter suppression has partisan motives and racist impact — in Oklahoma and around the nation
In an editorial, the Tulsa World in Tulsa, Oklahoma endorsed S. 1/H.R. 1 this week: "There are, however, solutions: The John Lewis Voting Rights Act and the For the People Act, which would restore minority voter protections stripped by the Supreme Court in 2013, broaden the electorate rather than narrow it, end extreme partisan gerrymandering and overhaul campaign finance laws. The bills passed the U.S. House last year but were never considered by the then-GOP-controlled Senate." [Read more]
The Atlantic: The GOP Cheat Code to Winning Back the House
"Given the likelihood that, absent federal intervention, red states will enact severe gerrymanders and new obstacles to voting, the decision about whether to end the Senate filibuster to pass these two bills could shape the future of American politics more than anything else Democrats do in the next two years. 'If the filibuster remains in place, [H.R. 1] dies in the Senate,' Dan Pfeiffer, the former White House communications director for Barack Obama, wrote this week. If that happens, 'the Republicans — who represent a shrinking minority of Americans — will likely return to power and control politics for the next decade or more.'" [Read more]
Center for American Progress: Momentum Grows for Bold Democracy Reform
"Not only would this sweeping set of structural solutions help Americans build trust in government, it would produce long-lasting change so that everyone, including Black and brown communities, has a meaningful shot at achieving the American dream." [Read more]
Al Dia News: "Show Up And Get Involved," that's responsibility for Rep. Teresa Leger Fernandez
In a new interview, Rep. Teresa Leger Fernandez said, "I am a co-sponsor of H.R. 1. It's called the For the People Act. It's electoral campaign finance reform. It's been something I've worked on for my entire life. I'm on the committee that will be working on that bill; I am going to be talking about that everywhere because Democracy is the key to getting all of the rest of this stuff done." [Read more]
The Bulwark: The Reforms We Need to Reinvigorate American Democracy
Richard North Patterson, an author and member of the Council of Foreign Relations, wrote this week, "A true democracy does not disproportionately empower the wealthy; or prevent voting by groups targeted for partisan advantage; or undermine the popular vote by rigging electoral districts; or limit participation by deliberately making voting harder. Fortunately, there is a comprehensive answer to much of this: H.R. 1, the For the People Act." [Read more]
Media Matters: The myths and facts around the For the People Act
Media Matters takes a look at the lies and misleading information certain news outlets have been spreading about the For the People Act. [Read more]
Washington Post: Why democracy reform is good for Republicans, too
Political scientist Lee Drutman writes that Republicans should support H.R. 1: "It should be especially good news for moderate Republicans, though they might not appreciate it at first. Seen through the lens of short-term partisan control of Congress, the bill might appear to help Democrats. But Republicans, especially those who worry most about the party's trajectory, should understand that the legislation actually offers them the long-term rescue package they desperately need." [Read more]