S. 1 / H.R. 1 Update | February 5, 2021
---
Momentum continues to build for passage of the For the People Act (S. 1/H.R. 1).
Here are three things to know:
In a new letter to Congress organized by the Declaration for American Democracy coalition, nearly 150 national and state organizations have called for the prioritization and early passage of the For the People Act: "Across the nation, Americans experienced unprecedented voter suppression, historic levels of dark money spent to drown out the voices of everyday Americans, and rampant ethical abuses. One bill, the For the People Act, addresses many of these problems. Therefore, we are urging Congress to make this pro-voter, anti-corruption legislation a first priority in the 117th Congress."
Many of the policies in H.R. 1 have bipartisan underpinnings and have benefited voters and lawmakers of both parties in states around the country, according to a new report from the Campaign Legal Center: "The democracy reforms in H.R. 1/S. 1 are drawn from bills that have long had bipartisan political sponsorship at both the federal and state levels. Moreover, the For the People Act would address problematic practices employed by both Democrats and Republicans."
The Washington Post editorial page wrote this week that the solution to states' new legislative attacks on the right to vote is the For the People Act: "Fortunately, Democrats have an appealing bill ready to go that they have been crafting for years. The For the People Act would require automatic voter registration, which could add 50 million people to electoral rolls while improving their quality."
In the News
People across the country are writing letters to the editor of their local newspapers to encourage members of Congress to support S. 1/H.R. 1, including in Maryland, Iowa, California, Pennsylvania, Missouri, New York, and Colorado.
Politifact: Fact-checking misleading attacks on H.R. 1, Democrats' voting rights
People are spreading false and misleading claims about the For the People Act. This Politifact fact-check sets the record straight. [Read more]
MSNBC: Sen. Warnock interview on The ReidOut
In an interview on MSNBC this week, Sen. Raphael Warnock (D-GA) said, "We ought to work very hard to pass the For the People Act and also the John Lewis Voting Rights Advancement Act. Those things together will take us a long way with expanding access to the ballot box and providing the kind of voter protections that we need." [Read more]
Lansing State Journal: For the People Act will protect our vote, amplify the voices of marginalized communities
In an op-ed, the program director of Common Cause Michigan writes, "Fortunately for Michigan, Rep. Elissa Slotkin has a strong record of protecting and strengthening our democracy throughout her time in Congress. In addition to receiving a 12/15 on Common Cause's 2020 Democracy Scorecard, she has championed several efforts to secure our elections and keep foreign money out of politics. Additionally, she was an early supporter of H.R. 1, the For the People Act, the most transformative democracy reform package since the Watergate era." [Read more]
WAMC: Rep. Delgado Discusses Vaccine Distribution And More During Virtual Town Hall
During a virtual town hall with his constituents this week, Rep. Antonio Delgado was asked whether he supported H.R. 1 and he replied, "Well, William, I'm for it." He said, "It's government for the people. And I really have an issue with folks who make it their agenda to make it more difficult for people to vote. You can't say you're for democracy or you're for government for the people by the people, on the one hand, but then say you're not of the mindset that we should try to make it so that people can vote, exercise this critical right." [Read more]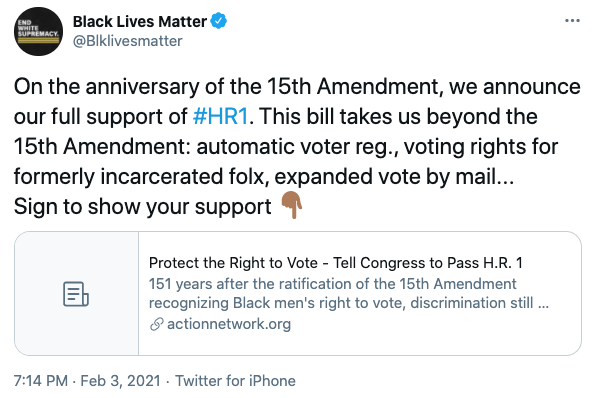 Houston Chronicle: Gerrymandering alert! Austin should let voters pick candidates, not the other way around
In an editorial blasting Texas Republicans for gerrymandering Congressional districts, the Houston Chronicle editorial page wrote this week, "Texans' only hope may be with Congress. House Resolution 1, the so-called For the People Act, would prohibit extreme partisan gerrymandering by, in part, requiring that congressional redistricting be done by independent commissions. The bill passed the House in 2019 but has been mired in a GOP-controlled Senate. Its future is brighter now that Georgia elected two Democratic senators." [Read more]
Facing South: New Democratic Senate majority opens path to democracy reforms
"But as Republican state lawmakers work to undermine the influence of an increasingly diverse electorate, congressional Democrats are calling for reforms to combat discriminatory voting policies and strengthen democracy in a way that makes the voting process freer, fairer, and more accessible. With President Joe Biden in the White House and a Democratic majority in both houses of Congress, Senate Majority Leader Chuck Schumer of New York recently said that his top legislative priorities include passing sweeping pro-democracy and anti-corruption reforms." [Read more]
In These Times: Democrats Need to Radically Expand American Democracy — And Fast
"In the face of this crisis, the newly empowered Democratic majority should prioritize overhauling our political system and stop further Republican perversions of the democratic process. They're off to a good start." [Read more]
Media Matters: A Sinclair reporter pushed GOP lies about voter fraud in segment about Democrats' voting rights bill
"Sinclair Broadcast Group included debunked Republican lies about mail-in voter fraud in its national report on Democrats' massive voter rights bill H.R. 1, also known as the For The People Act." [Read more]